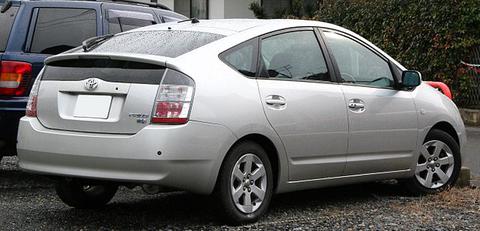 Affiliate Disclaimer
When you click on links to various merchants on this site and make a purchase, this can result in this site earning a commission.
Affiliate programs and affiliations include, but are not limited to, FlexOffers and the Amazon Services LLC Associates Program.
Whether you're sleeping in your car by necessity or by choice it does not have to be uncomfortable.
Research the cars we have listed here if you have not yet purchased your sleeping car. Although they may not be exactly what you are looking for, they possess features and qualities that all "camper cars" should have - namely fold flat rear seats as well as a fold flat passenger seat.
This will give you more than enough space to lay out as well as allow you to move around the car without having to crawl over upright seats.
1) Toyota Prius
Best Car To Live In
Looking to save money on rent or hotels? Look no further than the Toyota Prius! Not only is the Prius at the top of our list of best cars to sleep in but it is also our most recommended car for full-time car dwelling.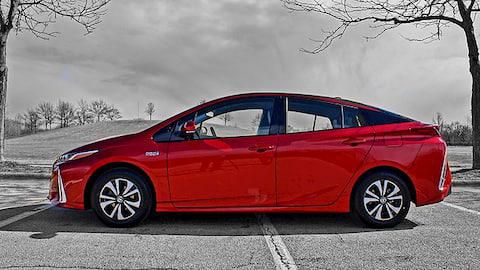 2016 Toyota Prius - www.commons.wikimedia.org
The Toyota Prius makes an excellent vehicle to live and sleep in for mainly two reasons:
Easily foldable rear and passenger seats to allow for up to 8 ft in length to stretch out
The battery system and climate control work together to maintain a constant temperature throughout the day and night without running the motor full time. The battery will be drained by either the heater or the air conditioning at which point the engine will automatically run just long enough to recharge the battery before kicking out again.
Adjusting Passenger Seat In The Toyota Prius
The Toyota Prius is a hybrid vehicle manufactured by Toyota since 1997. Initially it has been produced as a 4-door sedan but has only been manufactured as a 4 door hatchback since 2003.
Adjusting Rear Seats In The Toyota Prius
The Prius also gets an astounding 50 mpg! So excellent Toyota reliability, excellent space to stretch out and excellent gas mileage add up to an excellent rating from us!
Auto Climate Control Walkthrough In The Toyota Prius
2) Toyota Matrix (2003 - 2014)
Best Hatchback Car To Sleep In
Our choice for best hatchback car to sleep in is the Toyota Matrix. Sold from 2003 to 2014, the Matrix has some unique interior features that make it an excellent choice to sleep in.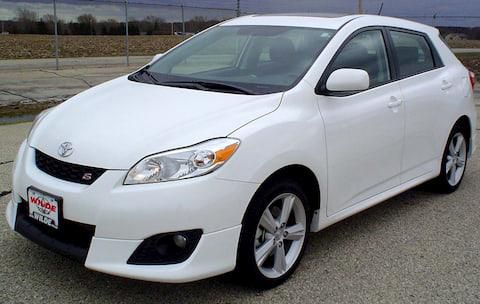 2008 Toyota Matrix - en.wikipedia.org
The front passengers seat along with the backseat fold down easily creating long flat space to lay down with minimal bumps and ridges.
2008 Toyota Matrix Lay Flat Cargo Space - en.wikipedia.org
The front passenger's seat has a built in plastic tray in the back. This gives the car's occupant some extra storage to place small things or even a nice spot to set up a laptop.
Passenger side seat folds flat in the Toyota Matrix
Another excellent feature is the built-in 115 volt/100 watt power inverter that allows you to plug in power hungry devices such as laptops, hair dryers, small electric heaters etc and run them safely off of the car's battery.
Rear seats fold flat in the Toyota Matrix
The rear seats are made with rigid plastic backs and fold flat creating a 53.2 cu ft cargo area. There are 8 tie downs along with integrated rails for securing cargo.
3) Subaru Outback Fifth Generation (2015 - 2019)
Best Camping Car
An excellent choice for a "Camper Car" would be the Subaru Outback Fifth Generation. The Outback makes an excellent choice mainly due to it's all-wheel-drive, easy fold down rear seats and stock roof rack.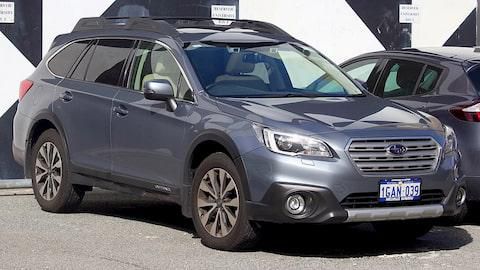 2016 Subaru Outback - commons.wikimedia.org
Sleeping in your car can be an excellent alternative to sleeping in a tent! In both cases you may be a bit cramped but in the car:
you are high up of the cold lumpy ground
you save space on having to pack your tent
you save the time and hassle of setting it up and tearing it down the tent
you are protected from the wind and rain
you are protected from wildlife
Subaru has been making all wheel drive cars since 1972 and is widely considered tops in the field.
To get to the good spots you may have to go off the beaten track and here the AWD Subaru won't let you down.
Backcountry and camping roads can be poorly maintained and often out in the middle of nowhere. Getting stuck could mean hours or maybe days waiting for help. The AWD will give you the peace of mind to enjoy yourself on your wilderness adventures.
The 2nd row seats lay flat in seconds giving you more than 7 ft of space to lay down and the optional sunroof allows you to gaze up at the stars.
Seating adjustments on the Subaru
Finally, the nifty roof rack allows you to safely secure supplies and that won't fit in the car.
Roof rack operation on the Subaru
4) Honda fit
Best Small Car To Sleep In
The Honda Fit, also sold as the Honda Jazz, is a small 4 door hatchback. Sold by Honda since 2001, the Fit is now on its 4th generation.
Known for its monospace design and configurable interior - the Fit interior space rivals that of larger cars while delivering better gas mileage and a lower price point.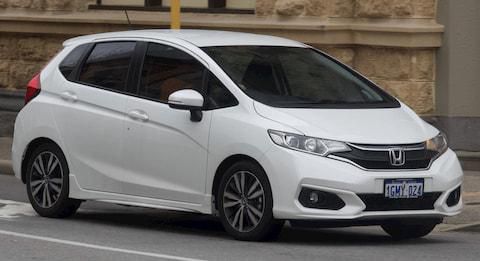 2016 Honda Fit - commons.wikimedia.org
The second generation Fit was introduced to North America in 2008 for the 2009 model year. It came with a 1.5 L 4 cylinder 117 hp i-VTEC engine paired with either a 5 speed manual or 5 speed automatic transmission.
The second generation Fit (2008-2015) was critically acclaimed winning numerous awards including:
Car and Driver's Best Small Car in its 2007–13 10 Best Lists
MotorWeek Drivers' Choice Awards 2009—Best Small Car
2010, 2011, 2012 Best Overall Value by Consumer Reports
The third generation retains many of the design cues of the second generation fit along with an updated drivetrain.
Honda Fit Magic Seat Operation
What makes the Honda Fit A Viable Option To Sleep In?
The Fit's Interior Packaging concept makes the Fit an option worth researching for sleeping in considering its small size.
Marketed as the Magic Seat in North America, it came with 4 seating modes:
Normal: seating for 5 in normal position
Utility: Either section, or both, of the rear seats folds down on itself creating a flat load surface
Long: Front and rear passenger seats fold down creating a flat surface 7.9 feet long
Tall: Either section, or both, of the rear seats bottom cushions fold up allowing for 4.2 ft in height
Refresh: The front seat can be folded back it form a lounge-style sitting area
The seating mode leaves room for even a tall person to stretch out and the other options, particularly the refresh position, make the Fit a candidate for a car to spend time in comfortably when you're not sleeping.
One drawback is that the seats don't lay completely flush so be sure to test out the system for yourself before you complete a purchase.
5) Toyota Camry XV50 (2012–2017)
Best Sedan Car To Sleep In
If you don't want the potential mechanical problems of an AWD system in the Subaru Legacy sedan a Toyota Camry might be a viable option.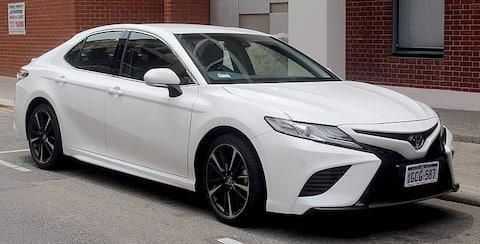 2017 Toyota Camry - es.m.wikipedia.org
In North America the 2012 - 2017 Camry was available with a 178 hp 2.5 L inline 4 and a 202 hp inline 4 hybrid or a 3.5 L 268 hp V6.
Only automatic transmissions were made available but due to its great drag coefficient the 4 cylinder Camry can get upwards of 40 mpg on the highway.
If you are looking for a car to live or sleep in we recommend going a different route than a sedan. Sedan's simply lack the cargo space of a hatchback or an SUV and will leave you feeling extremely cramped.
It's difficult to find a sedan to sleep in but the Camry's rear folding seat makes it possible if you are 5'8 or under.
Toyota Camry Rear Seat Operation
6) Ford Flex (2010 - 2019)
Best SUV To Sleep In
The Ford Flex's styling harkens back to a previous era and the large interior capacity along with the fold down seats make it an ideal vehicle to sleep in.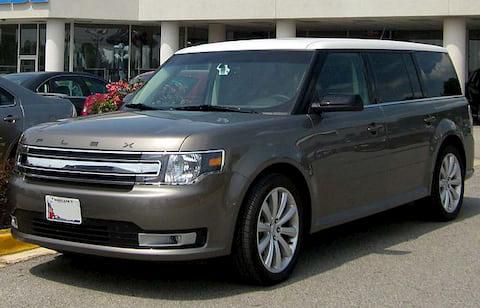 2013 Ford Flex - commons.wikimedia.org
Available with two engines pared with a 6 speed automatic transmission:
3.5 L V6 262 hp (available with front wheel drive or all wheel drive)
3.5 L Twin Turbocharged Ecoboost V6 (355 -365 hp) (all wheel drive only)
2019 Ford Flex seating operation
The Ford Flex is a full-size crossover SUV manufactured from 2009 to 2019 when it was discontinued. In 2010 Ford Flex AWD was ranked as the most reliable large SUV by Consumer Reports.