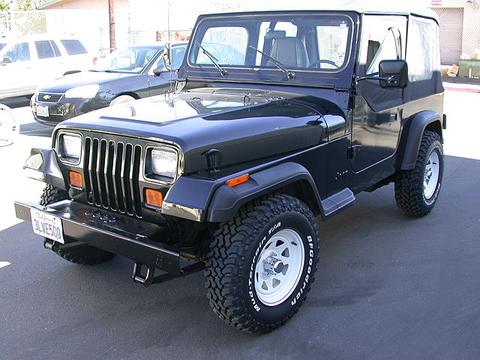 Affiliate Disclaimer
When you click on links to various merchants on this site and make a purchase, this can result in this site earning a commission.
Affiliate programs and affiliations include, but are not limited to, FlexOffers and the Amazon Services LLC Associates Program.
A car that is easy to maintain is often near the top of many car buyer's wishlists.
To be honest, modern cars can no longer be fixed with just a wrench and a screwdriver like the good old days. The advent of new technology and the evolution of the automobile has made working on modern cars extremely difficult to work on. Even relatively simple jobs such as spark plug changes can be made difficult because of the way the automakers are having to jam complex modern components under the hood.
For a novice with an interest in cars or a DIY guy/gal who likes to do things themselves it's unlikely to have the resources (shop / tools / expertise) to properly fix or work on a modern vehicle.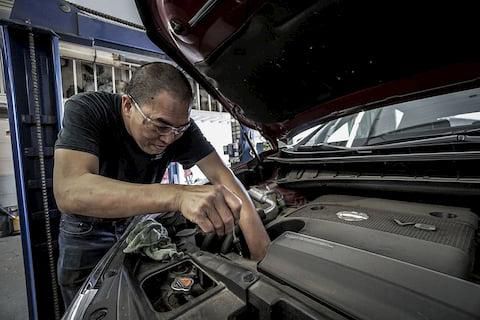 Mechanic Working On A Car - www.wallpaperflare.com
On the other hand, as a daily driver most people want some modern conveniences such as fuel injection as well as modern comforts and safety.
The truth is that cars simply get easier to work on yourself the further back you go in time. The caveat is if you go too far back you end up with another problem... compromised structural components and seized bolts due to rust. This is why you should thoroughly inspect any vehicle, either by yourself or by a competent mechanic, before you buy it.
With this in mind we created a list of vehicles that although well enough advanced for their time are quite simple by today's standards and everything from spark plug changes to complete engine rebuilds can be done at home in the garage.
Here is a list of the easiest cars to work on that tries to strike a balance between modernity and ease. We have tried to include a variety of vehicle types and classes.
1) Jeep Wrangler YJ (1987–1995)
Easiest SUV To Work On Yourself
The Jeep Wrangler takes home our recommendation as the easiest SUV to work on yourself. It is arguably the most well known off-road vehicle on the market and also one of the easiest to work on.
Being a 4x4 adds some complexity and extra parts but there is a ton of resources online and the relative high lift can make things easier when crawling underneath the vehicle.
All Wrangler models have a separate body and frame, rigid live axles (both front and rear), flared fenders, fold flat window, and can be driven without doors.
With very few exceptions they also all have part time four wheel drive, with high and low heating as well as removable hard and soft tops.
Parts for the Jeep YJ are cheap and plentiful. As well, there is a massive after-market supply chain for the off road enthusiasts.
Fuel Injection was added in 1991 and anti-lock brakes were added in 1993. In 1994 the slave cylinder on the manual transmissions was moved outside of the transmission's bell housing to allow for easier replacement.
2) Ford F-Series (1992–1997) F-150
Easiest Truck To Work On Yourself
The Ford F-150, model years 1992 -1997, gets our vote as the easiest truck to work on yourself.
The Ford F-Series is the second all-time in sales behind the Toyota Corolla.
For the ninth generation of the venerable F-Series styling changes to the lines of the hood, front fenders and grill were rounded off in the interest of aerodynamics but it still retains that classic look as compared to more modern pickup trucks.
The F-150s were available in many different configurations from basic single cab models up to the XLT extended cabs with chrome and plush seating.
The ninth generation F-150 was available with 3 engine options: 4.9L (300 ci) I6, 5.0L (302 ci) V8 or 5.8L (351 ci) V8.
Like other vehicles of it's time the truck still retains simplicity while also having the benefits of fuel injection.
There are many around still in relatively good shape and parts are readily available - both OEM and After-Market.
The great thing about working on an older F-150 such as this model is the amount of space. The engine compartment has loads of room to change starters, alternators, belts etc and if you have to crawl underneath you may not even need a jack to work!
3) Chevrolet Camaro Third Generation (1982 - 1992)
Easiest Sports Car To Work On Yourself
The Chevy Camaro, model years 1982 - 1992, gets the nod as the easiest sports car to work on yourself.
Even with the V-8 engine there is still lots of room under the hood to move around.
The third generation Camaro's design was nothing like previous generations. New features included:
factory fuel injection
four speed automatic transmissions
five speed manual transmissions
four cylinder engines
hatchback bodies
rear window was much larger and complex thanks to recent advances in car glass design
front windshield had a 62 degree angle... the steepest at GM at the time
rear seat folded to expand the luggage compartment.
The '82 Camaro was released for sale in December '81 with a 2.5 L 4-cylinder motor, 2.8 L V6 and a 5.0 L V8. The V8 was available with optional Throttle Body Fuel Injection.
In 1983 the transmissions were upgraded. A Borg-Warner 5 speed manual transmission replaced the 4 speed. A 4 speed automatic with overdrive replaced the 3 speed automatic.
In '85 Chevrolet introduced an IROC-Z model that featured:
Upgraded suspension
Lowered ride height
Upgraded shocks
Larger diameter sway bars
Special decal package
Tuned port injection (from the Corvette)
Over the ensuing years changes were made to the drivetrain and interior up until the 3rd generation Camaro was discontinued in '92.
Like all the vehicles in this list of easy vehicles to work on, parts are readily available - both aftermarket and OEM. When it comes to reliability and power you want to choose a TPI version if at all possible.
American RWD sports cars of this era generally have less electronics and more power than their Japanese and European counterparts making the Chevy Camaro a good choice if you are looking for an easy car to work on.
4) Toyota Corolla E110 Eighth Generation (1998 - 2002)
Most Reliable Car
Not only is the Corolla easy to work on but it is arguably the most reliable car in our list.
The Corolla E110 was the eighth generation of cars sold by Toyota under the Corolla nameplate.
In North America only a 4-door sedan was offered.
There were a few key changes to the engine that increased reliability from the already reliable Corolla engine of the previous generation. These include:
Aluminum engine block and cylinder heads making this generation lighter than its predecessor
Uses timing chain instead of a timing belt
Laser etched valve guides rather than the old shrink-to-fit valve guides in the predecessor Corolla motor. This prevents oil burning and premature valve guide failure.
Engine Available:
1998 - 1999 - 1.8 L I4, 16-valve DOHC Fuel Injected, 120 hp
2000 - 2002 - 1.8 L I4, 16-valve DOHC Fuel Injected, 125 hp
Transmissions available were 3 and 4 speed automatics or a 5 speed manual transmission.
Toyota Corollas are the all-time most popular vehicle with 44.1 million units sold since 1966.
Toyota Corollas, in general, are widely thought of by mechanics as the most reliable car available.
There are still many 8th gen Corollas on the road and parts are cheap and plentiful.
We decided to recommend the 8th generation Corolla because it was the first Corolla with a timing chain rather than a timing belt which saves the owner the headache and costs of timing belt changes.
Note: The Chevrolet Prizm (1998 - 2002), exclusively sold in the USA, is a compact car that is derived from the Toyota Corolla. The Prizm is virtually the same car as the Corolla apart from relatively minor cosmetic details. The Prizm can make a great option if you can't find a used Corolla and can often be bought cheaper.
5) Mercury Grand Marquis Third generation (1998–2002)
Easiest Car To Work On Yourself
The Mercury Grand Marquis is an automobile that was sold by the Mercury division of Ford Motor Company from 1975 to 2011. From 1979 to its 2011 discontinuation, the Grand Marquis shared the rear-wheel drive Panther platform with the Lincoln Town Car and the Ford (LTD) Crown Victoria.
A larger sedan with a V-8, the Mercury Grand Marquis may be the easiest car to work on in our list.
The Mercury Grand Marquis shared the same platform as the Ford Crown Victoria and Lincoln Town Car. All three, but the Ford Crown Victoria in particular, was sold in huge numbers as fleet vehicles as taxis and police cruisers. Some of the reasons were their reliability, low cost of maintenance and ease of repair.
They are known to put on a half a million miles easily in the taxi business.
The Mercury Grand Marquis came with a 4.6 L V-8 under the hood but being rear wheel drive and due to the size of the car there is still lots of room under the hood to work.
Finding parts is easy and they are very inexpensive.
Final Thoughts
One of the features that every practical car buyer looks for when car shopping is ease of servicing and maintenance. Take the time to research before you make your purchase and you will save time, money and headaches.
You don't need to make your life harder than it needs to be by picking a vehicle that is hard to work on and that drains your money and patience.