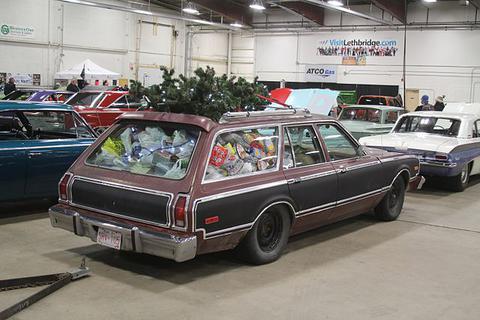 Affiliate Disclaimer
When you click on links to various merchants on this site and make a purchase, this can result in this site earning a commission.
Affiliate programs and affiliations include, but are not limited to, FlexOffers and the Amazon Services LLC Associates Program.
How much weight a car can carry is defined as the payload capacityof a car. The payload capacity includes both the weight of the passengers and the cargo. The cargo can be anywhere whether it's inside the cab, on the roof or in the trunk of the car or the box of a truck.
What happens if you exceed payload capacity?
It is very dangerous to overload a vehicle. Any weight above the payload capacity adds extra strain on the suspension components and wheels that they were not designed for. This can make the vehicle mishandle and even could cause a tire blowout leading to a potentially catastrophic accident.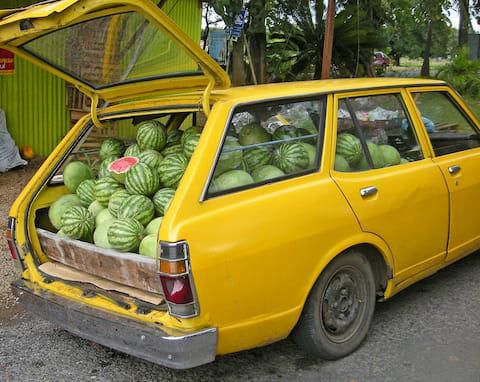 Car Overloaded With Watermelons - www.pixabay.com
How do you find the payload capacity of a car?
The payload capacity of your specific car can be found in the owner's manual or online.
Payload Capacity Can also be calculated using this simple formula.
Payload Capacity=Gross Vehicle Weight Rating – Curb Weight
Where:
Gross Vehicle Weight Rating (GVWR)is the maximum weight the vehicle is rated for when it's all ready to go including passengers, cargo, a full gas tank and all other fluids (oil, coolant etc). It can generally be found in the owner's manual or in the driver's side door frame.

Curb Weightis how much the vehicle weighs with no cargo or passengers but with the necessary fluids and a full gas tank.
Example:
A 2019 Toyota Corolla has a Gross Weight of 4010 lbs and a Curb Weight of 2730 lbs.
Payload Capacity=Gross Vehicle Weight Rating – Curb Weight
Payload Capacity=4010 lbs – 2730 lbs
Payload Capacity=1280 lbs
The max payload capacity of a 2019 Toyota Corolla would be 1280 lbs. So, for example, you could carry 4 adults who weigh 200 lbs each and have enough payload capacity for 480 lbs of cargo.